Further details surrounding Widnes' IMG grading score that ultimately ranked the club in 16th place in rugby league have been revealed.
The score of 10.17 out of 20 is calculated across five different pillars – fandom, performance, finance, stadium and community.
As revealed at the Members' Monday night at the stadium, Widnes' breakdown of those points was:
Fandom 3.3 (out of 5)
Performance 1.72 (out of 5)
Finances 2.25 (out of 4.5)
Stadium 1.9 (out of 3)
Community 1 (out of 2.5)
You can download the RL grading criteria handbook to view how scores are calculated.
Fandom
There are five points on offer here – 2.5 for attendance, 1 for viewership and 1.5 for digital.
There was some controversy over the TV viewership aspect of this, with the Championship TV deal with Viaplay now expired.
All Super League clubs will have all of their games televised next season, meaning they have a much better chance of hitting the 1 point for viewership – and almost guaranteed to get the 0.5 point which Championship clubs can't.
It was reported on the night that Widnes were in the top 10 for their digital fandom score.
The bulk of the points is based on average attendance – Widnes are on the borderline of 3,000 which is critical. An average over 3,000 gives 2 points, but below that is 1.5 points (down to 1,500, below which is 0.75).

Ultimately, due to the viewership point and the attendance requirement for 2.5 points being over 7,500, the best Widnes can hope for in this section is 3.5 – so pretty much there.
There are no plans to change the criteria within the first 12 months, but if the TV situation remains the same for Championship clubs, then there may well be a review to the fandom calculation that will be of benefit to Widnes.
Score: 3.3
Room for improvement: Biggest challenge is to maintain attendances over 3,000 to avoid dropping half a point.
Performance
This is based on league position over the past three seasons, with bonus points for winning a trophy in the previous season. That includes the Championship Grand Final and the 1895 Cup.
How it works is that all 35 clubs are ranked and then get a score up to a maximum of four. It is brilliantly broken down by this table produced by the Rugby League Record Keepers' Club.
Here are the full performance rankings for all clubs based on final 2021-23 placings. Note:
– we're seeking confirmation we've adopted the right methodology 😊
– 35 teams means slight difference in points to the grading handbook
– these are league based only (cups, etc to add in) pic.twitter.com/gXxHbLjFa0

— Rugby League Records (@RL_RKC) October 26, 2023
Clearly this is one area where Widnes could significantly improved. Over the past three seasons, their performance on the field has them around 21st overall. A jump up to 17th (so finishing 5th on average in Championship) overall would have lifted Widnes above Featherstone in the rankings.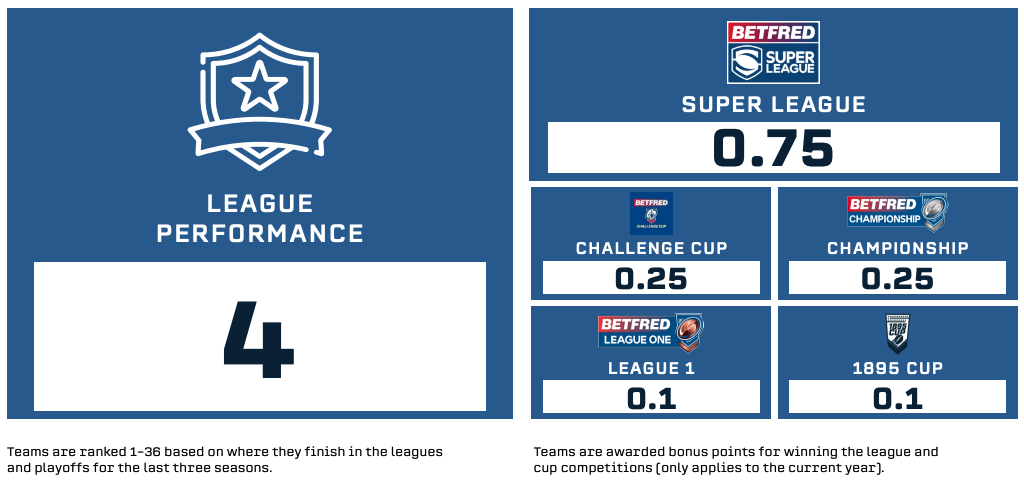 It will take a few years for Widnes to make significant strides in this area, due to the 9th placed finishes in recent seasons.
A focus on the 1895 Cup might be an interesting opportunity to get a boost of 0.25 points.
Score: 1.72 / 5
Room for improvement: Finish higher in the league (top four Champs worth 0.5 growth) and win a trophy (1895 Cup or Championship Grand Final worth 0.25)
Finance
This is probably the least accessible aspect of the criteria for fans to calculate, and understandably so.

Widnes' score of 2.25 out of 4.5 suggests that it is holding up relatively well for a Championship club.
Clearly turnover will be lower for non-Super League clubs.
Widnes aren't reliant on owner investment, and so would be more sustainable than a number of other clubs.
Score: 2.25 / 4.5
Room for improvement: Probably nothing beyond 0.5 for increasing non-centralised turnover.
Stadium
The three points on offer here and broken down in to five different areas.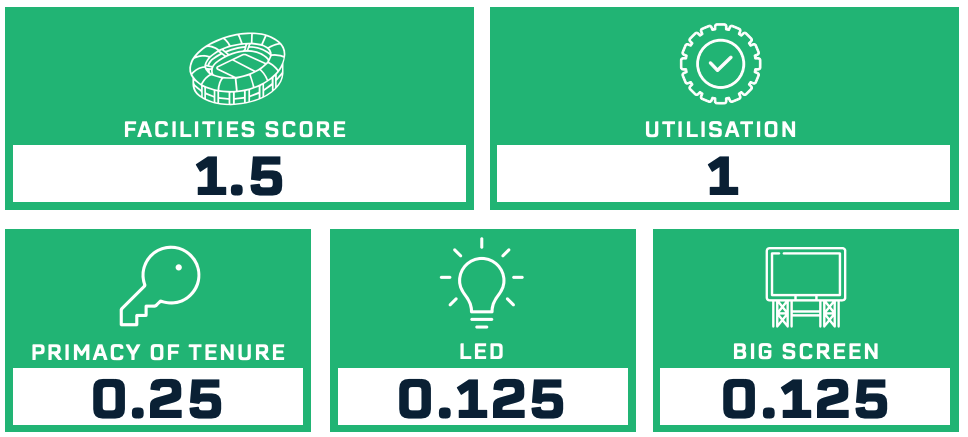 Facilities are worth 1.5 points, based on a range of areas including capacity, seats, corporate hospitality and media facilities. Widnes likely meet the majority of the criteria set out and so will have this mostly granted.
Utilisation is worth 1 and this is based on what percentage of the capacity is filled on a weekly basis. Unfortunately, the size of the stadium is a hindrance to Widnes here, with the 15,000 capacity and Widnes' average meaning the club has only earned 0.19 points for this come the end of the season.
Primacy of tenure, which Widnes have as the main tenants of the DCBL Stadium, is worth 0.25 points
There is another 0.25 points available for having a big screen and LED advertising boards (neither of which Widnes have).
Score: 1.9 / 3
Room for improvement: A big screen and LED boards are a significant investment but would be worth 0.25 points.
Community
This is split in to two sections – catchment area (1.5 points) and foundation (1 point).
It was revealed at the Members' Monday that the population of the local authority (Halton) falls agonisingly short of the 130,000 cut off that would be worth 1 point.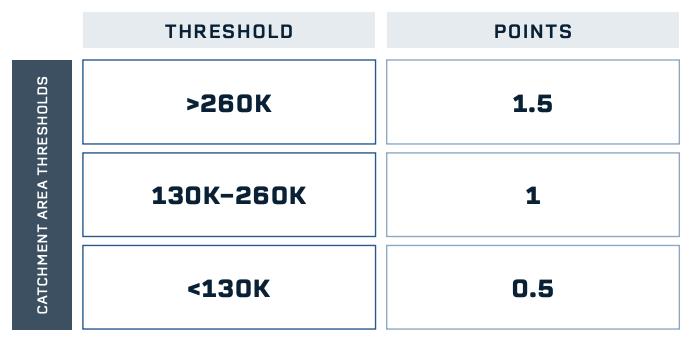 The population of Halton is 128,200 according to the 2021 census data.
Instead, Widnes are only awarded 0.5 points for this and have no hope of it increasing until the next census (every 10 years – next one 2031!)
The foundation point is based on foundation turnover. At present, this means the foundation turnover is less than £50,000. An increase above £50,000 would be worth 0.25 points, an increase to greater than £1m is worth another 0.5 points.
Score: 1 / 2.5
Room for improvement: Increase foundation turnover
So what does it mean for moving forward?
There is plenty of room for improvement for Widnes' score, though the same can be said for all other clubs. Even if Widnes do make improvements, it doesn't necessarily mean they will climb the rankings as other clubs will be doing the same.
Take this lengthy statement from 19th placed Barrow, which shows numerous improvements that they can make with some small tweaks.
Realistically, even a modest growth in performance on-field could add 0.5 points for Widnes, but maintaining the fandom points would appear to be a challenge.
Elsewhere, there's maybe a 0.25 point improvement from community foundation turnover that could be achieved, but other than it looks like financially is the only other big area to gain quick points.
That is only 0.75 points though, and wouldn't even get Widnes up to 14th overall.
The bottom line for Widnes though now is that on-field performances must improve. Not just to increase the points for that pillar, but also because that will contribute to many of the other pillars – attendances, stadium utilisation, finance.